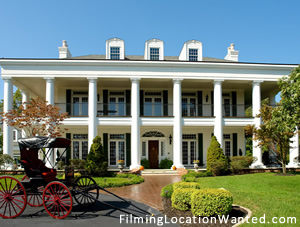 Renting your home or business to film crews to use your property as a film or photography production location can prove profitable
Get Involved in Location Film Production Projects
Meet new people, be part of the process of shooting a television show, commercial, film or magazine article.
Generate Dollars from renting out your house, business, abandoned buildings, props and anything else in between.
Create your film location profile to display online now!
NO percentage fees of any kind – Production Scout Representatives and Owners Negotiate Direct.

There are no fees or commissions, location scouts and production personnel contact the owners direct.
Create your location rental web page profile to display to location scouts seeking venues for film production television, entertainment and photography projects. List your home, business or unique property for film, movies, television commercials, short films, galas, parties, photography and more worldwide.

Film Friends and Sponsors:
Buy instrumental music at Instrumental Playground for you next movie or short film!Corporate DOP for hire Director of Photography in Toronto experienced Steadicam Operator and RED EPIC owner / operatorMoss-draped oak trees, abundance of scenery, walking tours along the historic cobblestone streets, old-style river cruises, carriage rides, outdoor bars, restaurants and coffee shops make Savannah's ambiance truly cinematic.According to SavannAHH! the city has the biggest National Historic Landmark District in the US. Peaceful laid-back atmosphere and colonial architecture of Georgia's fifth largest city makes visitors feel like in a movie set.

Making films is easier when you have the right crew. Finding the right director of photography for your film or video project doesn't have to be hard. Milwaukee Director of Photography Jon Kline has with cameras like RED Epic, Arri Alexa, and Canon C300. With more than a decade of experience as cinematographer, Jon is ready to handle any commercial, music video, or film.

People watch films to be entertained and to learn. Good movies teach us good morals and make us feel happy. Bangla Movie Spot is the place to watch movies online which consists of Bangladeshi and Indian movies. safaris in Kenya on this site