List your location rentals film and television homes and businesses wanted
FilmingLocationWanted.com Locations Rentals Database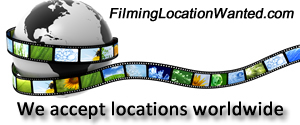 Worldwide Filming and Event Location Rentals Wanted.
FilmingLocationWanted.com is constantly seeking listings that offer that perfect location for upcoming films, events, and photography and television production projects.
If you are a property owner of a home or business and are interested in renting out your resource to the entertainment industry, list your location in our online web site database to generate additional income.
Our database displays worldwide location rentals that features castles, residential homes and estates, apartments, and unique locations of all types. Many venues can become a location rental.
Production companies from feature films, to events and photography assignments' are constantly seeking venues for their projects and looking at listed properties that provide photos and details of what is available.
Our current database has hundreds of locations available from all over the planet and offers private property owners the ability to submit their photos, contact information and details free or purchase a small affordable package to display up to 12 photos for location scouts seeking properties.
Our goal is to provide scouts with a varied selection of location rentals in a format that makes it easy and quick for them to view details online and contact owners directly to schedule and negotiate using private property for their filming or event projects.
FilmingLocationWanted receives requests from production personnel seeking interior, exterior and unique requirements for their shooting needs; and most often the location rental requirement is time sensitive. Our focus is to list as many versatile locations as possible.
Location requests can be very explicit such as a location in a hospital with certain types of medical equipment, to houses with large bathrooms connected to master bedrooms to abandoned buildings or streets with the look and feel of the 1950's.
To help owners, we have detailed on our web site how to create a location rental profile, from the type of descriptions to how to prepare the photos of their property tips.
The owner of the asset provides contact information allowing the scout to immediately call the owners and inquire on specifics to determine whether the location offers the needed components' for the shoot or event. If the property fits their need the owner and company can negotiate the rentals terms and compensation directly.
To list your property on filminlocationwanted.com, register free, and once you are logged in click on the "List Your Property" button on the top of the website to choose your listing option. Be sure to read our questions and answers articles sections to learn how best to list a location rental offering that will get results.
If you have any questions or need assistance, you can call our office at (760) 735-8690 or email our project coordinator Chris Johnson at chrisjo@filminglocationwanted.com
FilmingLocationWanted.com is a San Diego, California based website that maintains a worldwide location rental database that comprises private homes and business rentals, props and event and photography locations.